Protecting the Image & Legacy of a Hero
You buzz by them at 60 miles per hour and miss the words in a blur of green and white. You crawl by them in snarled commute-hour traffic, maybe you read the name, maybe you wonder about the story behind it, but more often than not it becomes the yardstick of how long you're suffering behind red brake lights.
Memorial signs decorate our freeways and highways. Each one carries a story and a significance to someone.  There's a sign I pass every day to and from work as a Sunnyvale Public Safety Officer that stand as a stark reminder of the dangerous work of a police officer. It's the "San Jose Police Officer Michael Johnson Memorial Highway", a stretch of Highway 87/Guadalupe Parkway dedicated to honor the sacrifice made by Officer Johnson who was murdered in the line of duty.
Officer Johnson's sign has taken a beating over the years. It was knocked down by a vehicle and later reposted. It has been tagged with graffiti over and over—the ultimate smack in the face to someone who gave their life protecting others. When that sign is defaced with graffiti, the Sunnyvale PSOA cleans the graffiti away, over and over again.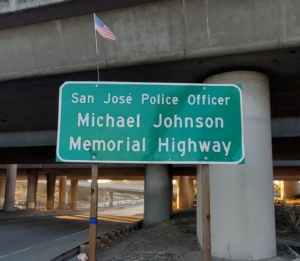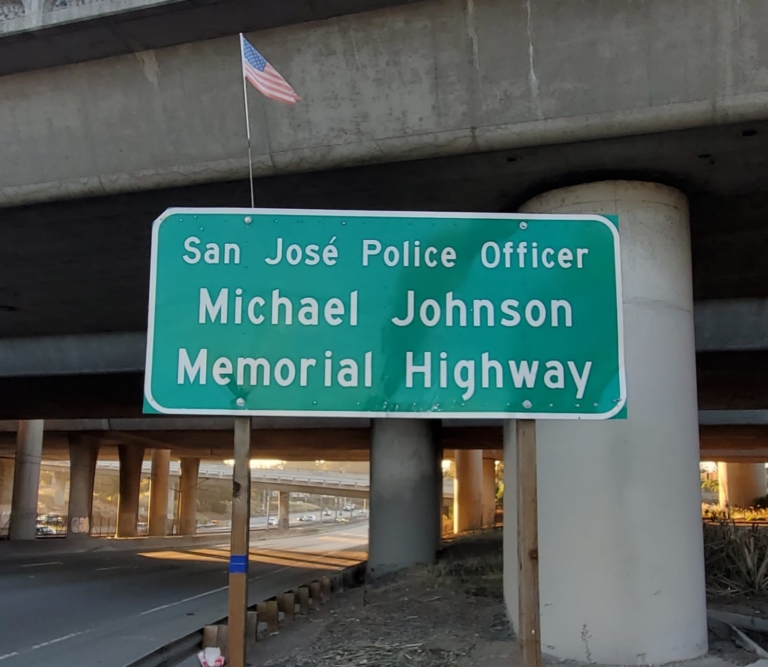 Here's why.
The sign pays homage to the sacrifice of SJPD Officer Michael Johnson.  On March 24th, 2015, Officer responded to the report of an intoxicated, possibly suicidal subject in an apartment. While on scene, officers learned that the subject possibly had access to two handguns. Officer Johnson along with other officers set up a perimeter around the apartment and took cover behind vehicles. The subject exited the apartment onto a second-floor balcony and fired multiple shots without warning. One shot struck Officer Johnson, killing him instantly. Officer Johnson served San Jose residents for 14 years. The PSOA will not let a punk with a spray can deface the heroism and sacrifice made by Officer Johnson. Ever.
The sign is more than white letters on a green background. It represents what we police officers call the thin blue line, the barrier of protection provided by us to keep our residents safe for those who choose to do harm. It's a responsibility carried out selflessly by hundreds of thousands of men and women in the United States every day.  We will not let a graffiti vandal tarnish our work or our profession.
Symbols reflect a community's values. And this sign, like all other officer memorial signs, is a powerful symbol for every officer who passes by whether going to work, going home or as part of their shift.   That is why the PSOA will never allow Officer Johnson's sign to be left in disrepair.
We want our brothers and sisters of the San Jose Police Officers' Association to know, the Sunnvyale PSOA has your back and we will never allow our fallen brother's memory or service be sullied.
https://www.psoa.com/wp-content/uploads/2021/11/WhatsApp-Image-2021-11-12-at-2.30.36-PM-1.jpeg
1200
1600
Dustin DeRollo
https://www.psoa.com/wp-content/uploads/2021/03/sunnyvale-logo.png
Dustin DeRollo
2021-11-17 14:01:35
2021-11-17 15:44:29
Protecting the Image & Legacy of a Hero